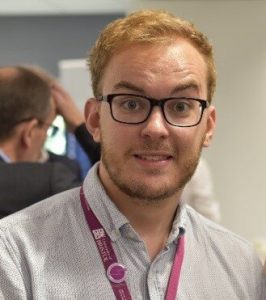 Britain's journey towards cutting emissions to net-zero by 2050 will be under the spotlight like never before we head towards the COP26 UN Climate Change Conference which will take place in Glasgow from October 31 to November 12.
The nuclear industry will, of course, have a vital role in making sure that the UK meets its net-zero commitments and the South West is going to play a very prominent part in hitting those ambitious targets due to the growing importance of the Hinkley Point C power plant.
The Young Generation Network (YGN) arm of the Nuclear Institute is now spearheading the Net Zero Needs Nuclear campaign in support of nuclear energy forming part of the solution to achieve net-zero by 2050.
Here Bristol-based YGN member James Barker explains what the organisation is doing to make net-zero a reality and why the region will play such an integral role in the national drive towards those targets.
How important will be South West's role in the UK's journey towards net-zero?
When it comes to nuclear energy, the South West of England is the second most important region in the UK, just behind the North West, so it's going to play a vital role.
On the academic front there is lots of activity that underlines our region is pushing the boundaries of science and advanced engineering.
Through the South West Nuclear Hub, we can boast a strong network of universities leading nuclear in research in both fission and fusion as well as advanced technologies.
And there's also the National College for Nuclear's Southern Hub, based at Bridgwater & Taunton College leading Apprenticeship and vocational training, so there's lots of people and organisations pushing in the same direction.
But still the most important thing on our landscape is Hinkley Point C. It's sometimes described as expensive and behind schedule, but it will prove to be a crucial loss-leader – making up for lost time because we haven't built a new nuclear station in 30 years.
That HPC is taking shape here in the South West establishes us as the leading region for nuclear new build.
We've got a supply chain that's been built up alongside HPC and we need to continue to build on that, hopefully at Sizewell, subject to planning permission being granted and then that will be replicated over and over again as lessons are learned and processes are refined. If this is all comes to pass, I'd expect HPC to be viewed a success.
Looking beyond HPC, what else can the South West offer on the road to net-zero?
Fusion and the STEP process are worth highlighting because they're now very much on the horizon in terms of advanced nuclear technology development. We've got two sites in Gloucestershire and Somerset that are vying to host the UK's fusion power plan, but we've got the existing local capability as well to try to bring a fusion plant to the region.
There's also the connectivity as well to Culham in Oxfordshire and the fusion community there. It's also worth remembering the Welsh nuclear sector isn't too far away and then there's London on the Government side of things so we're ideally placed.
Can you sum up how changes in everyday life will create energy-related challenges ?
For a start, we're supposed to be transitioning to electric vehicles and cars within nine years – but you've got to ask: 'Where's that electricity coming from?'
If all the nuclear stations are coming off grid pretty much by then you've got to wonder where's even the same level of capacity coming from, let alone more. There are demand increases to come from smart houses, electrification of transport and, lest we forget, the global population is increasing all the time.
We need a baseline to replace oil, coal and gas and nuclear is the baseload energy that can take its place and it can be scaled up. This is necessary alongside renewables whilst there are storage limitations with solar and wind.
What role is YGN playing in banging the drum for nuclear?
Our #NetZeroNeedsNuclear campaign which was launched earlier this year is gathering momentum. It's linked to COP activities which we're spearheading for the sector with our 'COP26 Delivery Team' – the volunteer group of young industry professionals passionate about nuclear and getting this source of low carbon energy its rightful place at the conference as part of the path towards Net Zero.
We're writing to the CoP president and policymakers need people to sign our petition to strengthen the case for new nuclear as part of the clean energy mix.
As well as speaking to various Government figures, we're hoping to send a delegation to the event and really lead nuclear's voice. There needs to be co-ordinated activity.
It shouldn't be portrayed as battlelines with nuclear on one side and renewables on the other. We're all part of the mix and we're all united by a passion to save the planet.
Nuclear does need to be part of the overall mix. But we don't just want to be the pro-nuclear voice just telling people who already know that nuclear is a force for good. We need to go beyond our community, convincing the public and converting doubters and we need a strong voice for that.
How do you convince the doubters?
Ultimately, if we want to reach Net Zero by 2050, already in less than 30 years, we have to ask what are the energy sources that will help us achieve that. Our electricity needs are going to be substantially greater than what they are now, and we need to strive for an energy mix that provides low-carbon energy 100% of the time.
Even if you don't like nuclear, with plants going off grid what is going to even match that level in 10 years' time? In the short term its likely fossil fuel sources would have to fill that gap, which is surely not what anyone wants. Nuclear has to be an important part of the energy equation.
How important is CoP26?
It represents a critical opportunity for our nations to come together and take action, collectively changing the way we think about climate and setting us on the path towards achieving Net Zero.
We are calling on all negotiators and policy makers who are involved at COP26 to take a scientific and technology neutral approach to energy policy and financing which can promote sustainable collaboration between nuclear and renewables.
We're heading in the right direction. There are polls and data that show that support for nuclear has been rising but generally in the public discourse you say 'nuclear' and people think of Simpsons-style glowing green stuff, or outdated technology. It's as if it's really culturally built-in.
Thankfully, the HPC BBC documentary has been great, aimed at a mass audience actually showing what a nuclear station is and how it works. That will hopefully have reassured people about safety but unfortunately segues into talking about the disasters at Fukushima and Chernobyl continue to highlight negative associations people have with nuclear power.
It's a Catch-22 situation – we need to reassure people about safety, but why are we always talking about safety? There are very clear non-nuclear technical reasons why neither Fukushima and Chernobyl would have happened here and would not happen which needs making clear.
What role is YGN playing in busting myths
We aim to be the voice of young people to show there is a diverse community that works in nuclear and supports nuclear. We aim to help that public messaging. It's seen as a secretive industry for obvious reasons and that it is not very culturally diverse.  However, the YGN are getting the public message out there a lot more and can do and we're doing so in a very effective way.
And what can be done to counter concerns over waste disposal?
As for concerns around the geological disposal of waste, the process is now ongoing to find a site, so we have somewhere to store waste properly. The Government has started this search and there are currently working groups in two places in Cumbria near Sellafield. Communities can volunteer to see if there is a suitable site. That could be here in the South West, should communities like Berkeley or Oldbury put their hand up.
And, finally, can you tell us about your role at the South West Nuclear Hub?
I'm part of the industry engagement team in the South West Nuclear Hub, linking academic research to industrial challenges to make sure it's applied properly and linking industry and academia to get the technology we need for the future.
The South West Nuclear Hub has been going for five years, bringing together inter-disciplinary work that is spread across multiple departments and we're now linking with Plymouth, Southampton and UWE and bring in other capabilities, also helping provide the future workforce. There's a Nuclear MSc and Centre of Doctoral Training to create new subject matter experts, particularly in emerging tech like fusion.